Healthful Homes Surface Disinfectant offers Weeks of Protection
Product Features
Ground-breaking enzymatic formulation
Independently tested and proven
Kills in minutes
Months of lasting protection
U.S. EPA-registered
Safe for use on most surfaces and materials
Safe for your family and pets
Restores indoor air quality
Neutralizes allergens
100% biodegradable
Healthful Home Mold and Bacteria Cleaner is the safest and most effective way to eliminate unhealthful mold and bacteria contamination. Specially formulated, state-of-the art combination of natural ingredients, designed to provide a superior treatment alternative to harsh chemicals. Unlike those "bargain" products requiring regular spraying or that require keeping the treated area dry.
Heathful Home Disinfectant Keeps Killing Viruses, Bacteria and Mold for Weeks
Great for hi-traffic areas with repeated human contact.
Ideal for recurring problem areas such as front-loading washers, damp rooms, humid basements and crawlspaces.
Not a typical chemical formulation. Healthful Home Mold and Bacteria Cleaner utilizes natural enzyme action to remove pathogens resistant to traditional chemical disinfectants.
Great for surfaces that come into constant contact with people
Widely used in residential and commercial properties, including schools, hospitals and nursing homes.
Healthful Home Mold & Bacteria Cleaner eliminates the need for harsh chemicals and dangerous ingredients.
U.S.EPA registered disinfectant and fungicide.
Unlike chemical-based products components that degrade once they react with germs, Healthful Home Mold & Bacteria Cleaner utilizes all-natural biological components (enzymes) that remain active after contact with microbes. These natural enzymes keep their effectiveness much longer than chemical cleaners. This "catalytic" cleaning action means the active ingredients in the HH Cleaner provides long-term action that chemical cleaners can't. Healthful Home Mold and Bacteria Cleaner cleans unhealthful microbes more effectively than other competing products and WITHOUT the use of harsh chemicals. Further, Healthful Home Cleaner provides unique residual protection long after the leading competitor's products have lost their effectiveness. Healthful Home Cleaner is 100% bleach-free and has been independently laboratory tested.
Disinfectant Efficacy against the Wuhan Coronavirus
Disinfectant Efficacy against the Wuhan Coronavirus
Overview:
The outbreak in Wuhan China of a newly identified coronavirus, SARS-CoV-2 (also known as the Wuhan Coronavirus) has raised questions about how various disinfectants will perform against this new virus when tested in standardized testing or when used in household or institutional applications.
Disinfectant Testing: In the United States, disinfectants are tested for efficacy against pathogenic organisms using standardized methods approved by the United States Environmental Protection Agency (US-EPA). These testing methods are developed to standardize evaluation of the performance of a chemical disinfectant against pathogenic microorganisms.
Lack of Sample Organism to Test:When new pathogenic microorganisms are identified, it is not always possible to run these standardized tests for a period of time as a 'standard' test organism or strain of organism must be decided, and then testing labs need to acquire samples of the organism. Even if testing were performed, the government registration process generally prevents a disinfectant manufacturer from promoting efficacy against an emerging pathogen until the government has reviewed and approved the claim. This is currently the case for the Wuhan Coronavirus. No commercial disinfectant on the market will have a specific claim for the Wuhan Coronavirus because it is currently not possible to test this virus and it is unlikely any disinfectant manufacturer will be able to promote such a claim for at least a year.
Hierarchy Approach:
Rutala and Weber (2014) proposed a hierarchy for anticipating disinfectant performance based on the general resistance to disinfection of the various classes of microorganisms. That table is shown below.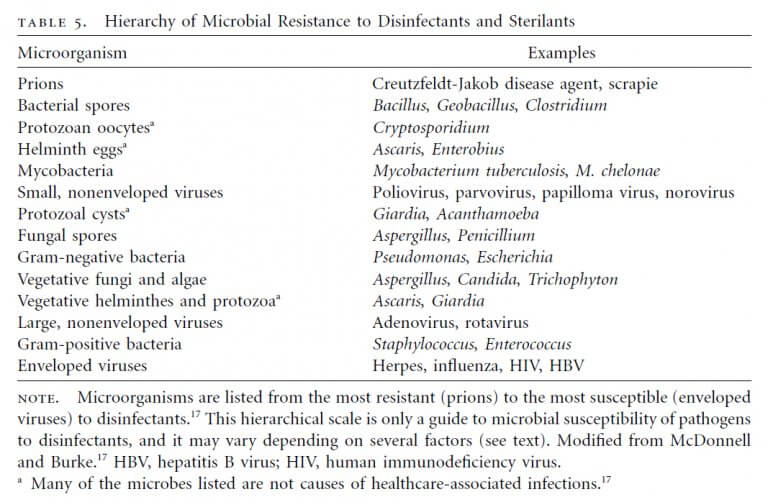 Conclusion: As coronaviruses are enveloped viruses and the most easy to kill , Healthful Home Disinfectant Cleaner is expected to be able to eliminate the Wuhan Coronavirus since Healthful Home Disinfectant Cleaner is U.S.-EPA registered to kill fungal spores and bacterial cells.  Until samples of the virus are available for testing, we cannot test directly or add a label claim to any of our products, but we explain through the hierarchy of resistance to disinfection discussed above how coronaviruses are relatively easy to kill and that it is reasonable to expect Healthful Home Disinfectant Cleaner to do the job for most applications.
Additional Information and Uses
Disinfectant U.S EPA Test Report Data
Counter tops and railings
Door knobs and handles
Basements Areas
Baseboards
Laundry rooms
Hotel rooms, TV remotes, etc.
Furniture
Drapery
Boats
RV/Campers
Kitchens/Bathrooms
Condensation on Window sills and skylights
Anywhere Viruses , Bactria or  Mold can be found
Want to Apply this Product Everywhere?